Whether you have downloaded FITIV for the first time or you have uninstalled and reinstalled it, FITIV gets you started quickly with its quick setup wizard.
Apple Health Permissions
When using the app on an iPhone, you first need to decide if you would like to grant the app permission to read/write fitness data to the Apple Health App.  This ensures the accuracy of your workout data and permits sharing of information with other fitness apps like MyFitnessPal.  For example, when your age, gender and weight can be read directly from Apple Health, it optimizes the accuracy of the app's caloric formula during your workouts.
When using the app on Apple Watch, it is REQUIRED that you grant it access to read/write your Heart Rate, Active Energy and Workouts from Apple Health.  The easiest way to ensure proper operation is to grant it access to all of the requested health metrics from Apple Health by first tapping on the "ALLOW" button and then tapping the "ALL CATEGORIES ON" option at the top of the pop up window.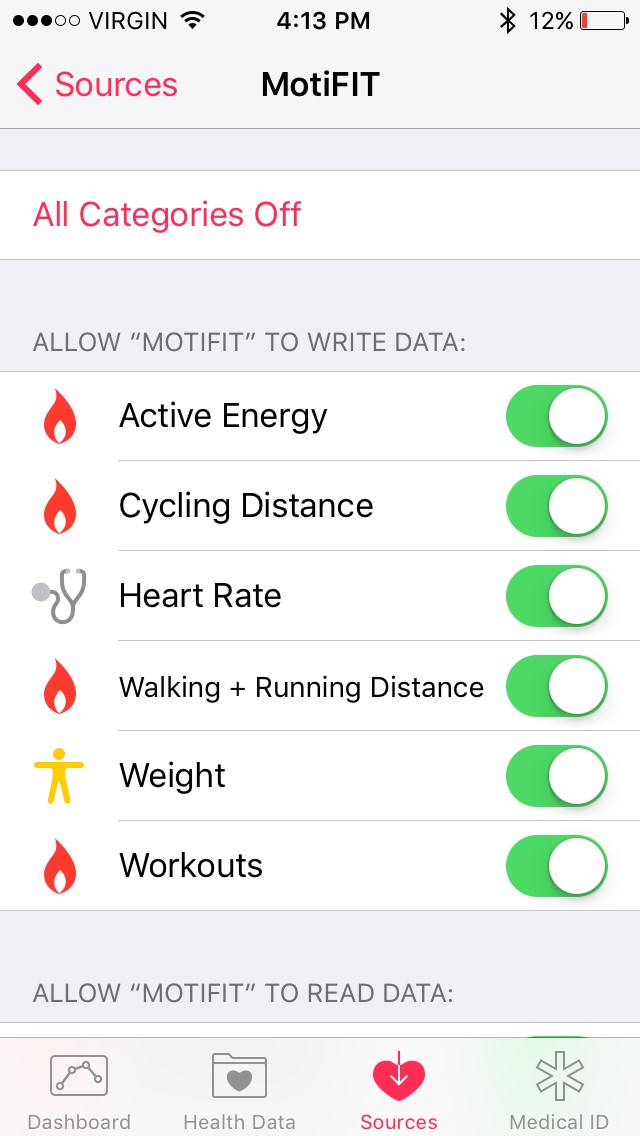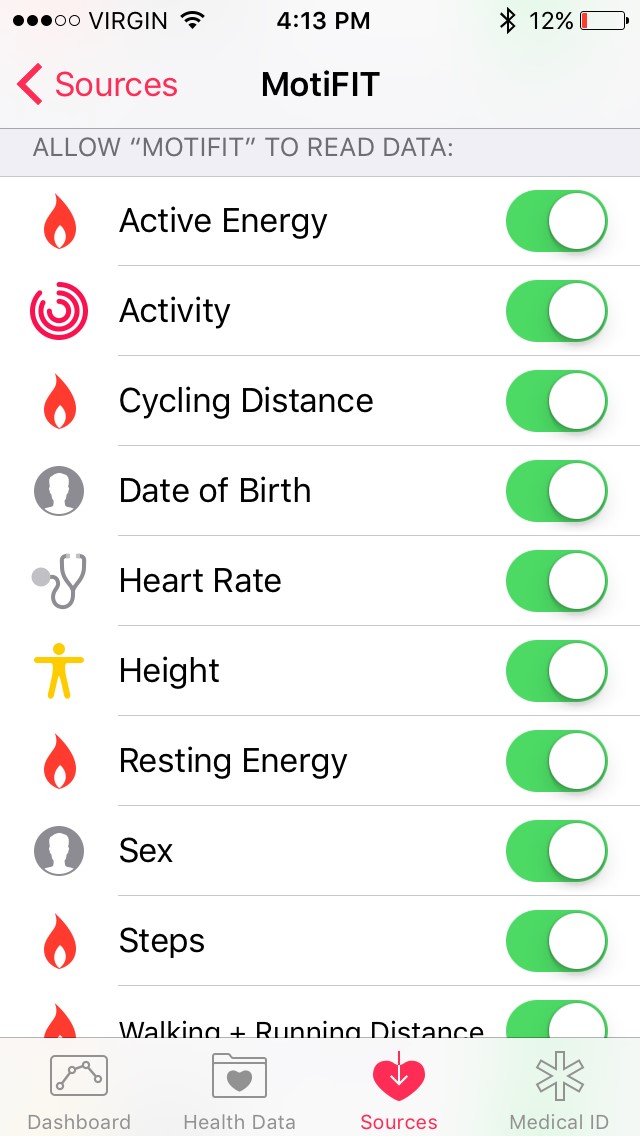 NOTES: 
Apple Health is not available on iPad.
Health permissions can be changed at any time directly inside of the Apple Health app.

Open the Apple Health app on iPhone 
Tap the "Sources" tab
Tap on FITIV
Adjust the Health permissions as desired.
Location Tracking 
To offer real-time workout stats (Pace, Speed, Distance, etc.), the FITIV apps need permission to access your GPS location while the app is in use.  To grant it access, first tap on the "AUTHORIZE" button and then tap the "ALLOW" button to accept the request.
Personal Information
The app will then prompt you for some personal information.  Enter your Gender, Weight and Date of Birth to get accurate workout metrics from the app since it uses all of this information in its caloric burn formula.
Notifications
FITIV will send you various alerts.  For example, a notification will appear on your phone after a workout has been saved on Apple Watch.
For the app to send you timely notifications, you have to grant it access by tapping the wizard's blue "ALLOW" button and again on the pop-up's "ALLOW" button to accept the request.
Cloud Account
It is possible to sign up for a FITIV cloud account.  If you choose to sign up, all your workout data will be backed up to your cloud account and synchronized across all of your iOS devices.  For example, this allows you to review workouts done from Apple Watch on your iPad.