You can access the app's configurations by tapping on the "MORE" tab.  From there you can personalize the app to your preferences.
7.1 MotiFIT Cloud Account
App settings are synchronized across all of your devices after you have signed up and logged in to a MotiFIT cloud account.
If you decided to skip MotiFIT cloud account signup during the quick app setup wizard, you can do so from this screen.

7.2 Membership Information
7.2.1 Membership Benefits
Tapping on this option shows the benefits of purchasing a pro membership.
When you first download one of our MotiFIT apps, you receive three free trial workouts with all the features and benefits.
After using your three free trials, the app will still operate but with limited features.
Free Membership Limitations:
Apple Health support (Disabled) 
Visual multi-color heart rate halo (Disabled)
Heart rate zone pie chart (Disabled)
Manual workout entry (Disabled)
Apple Watch workout import (Disabled)
Voice feedback (Disabled)
App customization options (Disabled)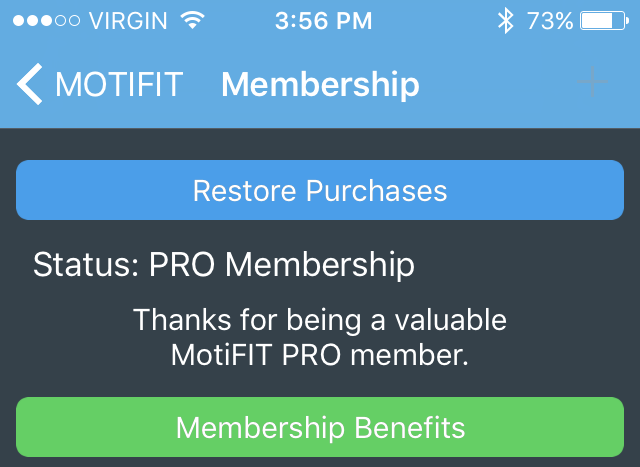 7.2.2 Subscription Types
MotiFIT offers two pro subscription types.  You can choose to subscribe either monthly or yearly.
NOTE: You can only have one ACTIVE subscription at a time.  While a subscription is active, all options will display the blue ACTIVE icon.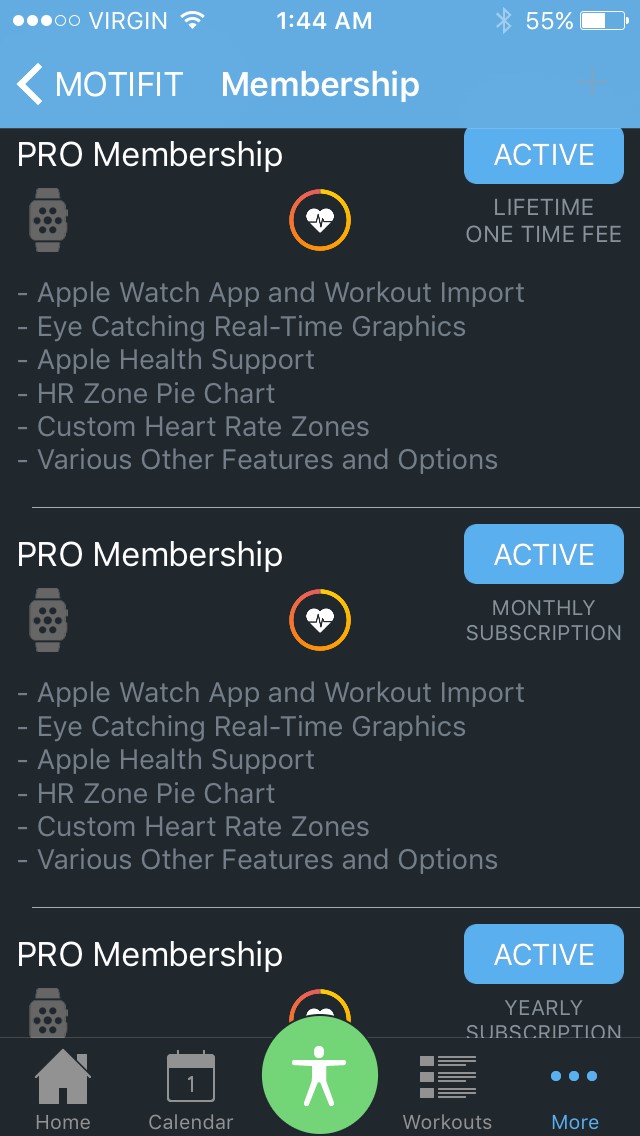 7.2.3 Modifying or Cancelling Your Auto-Renewing Subscription Membership:
On iPhone, iPad, or iPod touch
Tap the "Home Button" and open the "Settings"  
Tap "App and iTunes Stores".
Tap your "Apple ID". 
Tap "View Apple ID". You might need to sign in.
Under Subscriptions, tap "Manage".
If you don't see a subscription in iTunes and are still being charged, make sure that you're signed in with the correct Apple ID. 
Tap the subscription that you want to manage.
Use the options to manage your subscription. You can choose a different subscription period, or turn off Automatic Renewal.
Turn off Automatic Renewal to cancel a subscription. Your subscription will stop at the end of the current billing cycle.
7.2.3 Restoring Your Purchased Membership
Problems may occur where the app doesn't recognize a membership purchase.  This option serves as a backup in case this happens.  Tapping on "RESTORE PURCHASES" reconnects you to the app store and notifies the app of your purchase.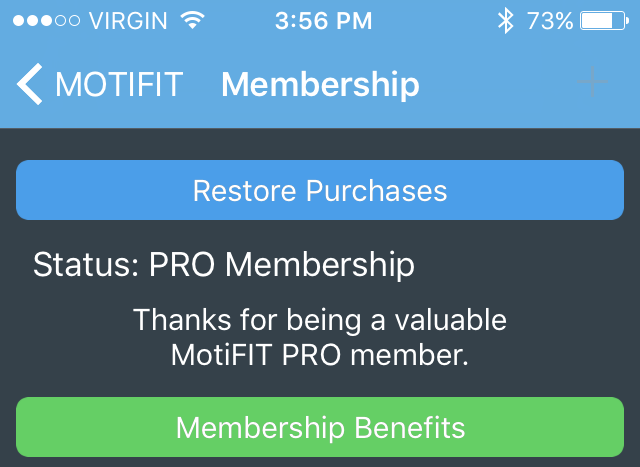 On iPhone:
Open the "MotiFIT" app.
Tap on the "MORE" tab.
Tap to enter "MEMBERSHIP INFORMATION".
Tap on the "RESTORE PURCHASES" at the top of the screen.
Once you've restored your purchases on your phone please sync the setting changes from iPhone to Apple Watch. 
On Apple Watch:
Open the "MotiFIT" app.
Tap on the "MORE" button.
Tap on the arrow at the top left to go back to the home screen.
Wait for approximately 15 seconds with the screen active (not black).
NOTE: Having your phone in proximity of your Apple Watch will help this process.
7.3 Data Sharing
Enabling data sharing for the Apple Health app allows MotiFIT to save your workout data into your Apple Health app.  This can serve as a backup if something was to happen during the saving process to the MotiFIT database.  It also helps keeping your weight and other personal information up to date.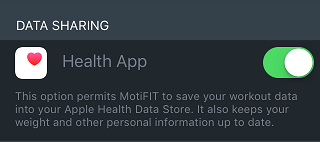 7.4 User Information
MotiFIT uses your personal information to calculate your caloric burn so it is important to keep it up to date to optimize your readings.
7.4.1 Gender & Date of Birth
When the health app option is enabled, MotiFIT is not allowed to change your gender and date of birth.  If you need to make a change, you have to make them directly in the Health app.
If the health app option is disabled you can make changes here by taping on the option, scrolling to the desired setting and then tapping on save.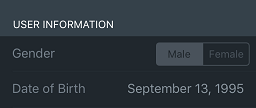 7.4.2 Heart Rate Information
Maximum Heart Rate (MHR)
This is where you select the method you want to use to calculate your maximum heart rate.  MotiFIT uses your max heart rate to calculate your heart rate zones so having an accurate MHR is important.  If you already know your max heart rate then set it to "MANUAL" and scroll to the desired amount.  If you don't know your MHR, choose one of the two pre-set formulas.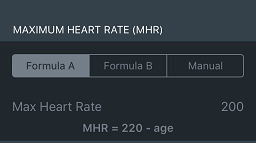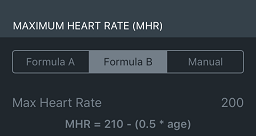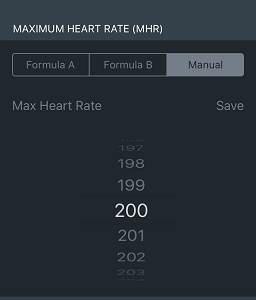 Resting Heart Rate (RHR)
Your resting heart rate is the amount of times your heart beats per minute when your body is at rest.  The best time to measure it is as soon as you wake up, before you get out of bed.  Once you have calculated your RHR, tap on Resting Heart Rate, scroll to the desired amount and tap on "SAVE".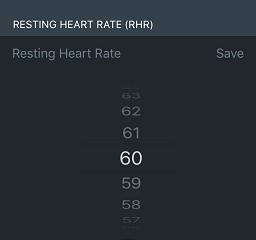 Heart Rate Intensity
The heart rate intensity is the percentage shown in the heart rate halo and the pie chart while you are in a workout.  "% of MHR" is relative to your current heart rate as well as your max heart rate while the Karvonen method also takes your resting heart rate into account.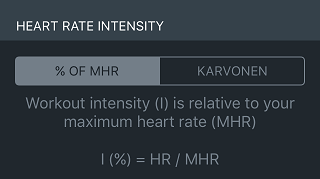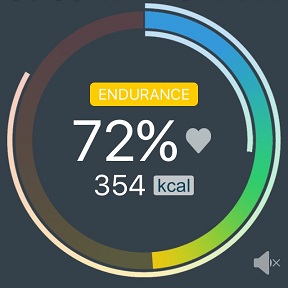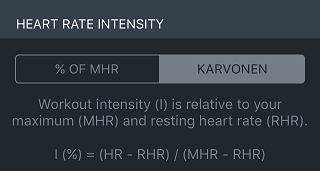 Heart Rate Zones
This is where you control your heart rate zone thresholds.  If you want to personalize your heart rate zones, you can do so by choosing the "MANUAL" option and once again, tapping on the zone you want to change, scrolling to the desired amount and tapping on save.  The "AUTO" option calculates your zones for you and is based on percentages of your max heart rate.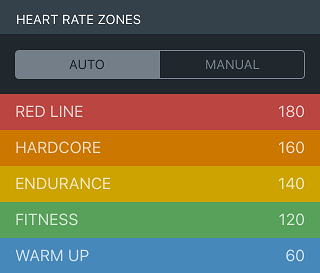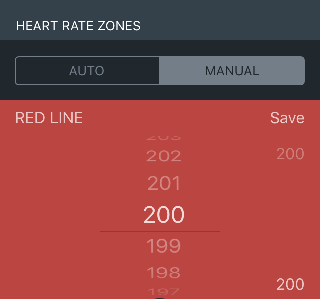 7.4.3 Distance & Weight Units
Choose if you want your distances to be measured in kilometres or in miles and your body weight measurements in pounds or in kilograms.

7.4.4 Body Weight
To adjust your current body weight, tap on "Body Weight", scroll vertically to adjust the values and then tap "SAVE".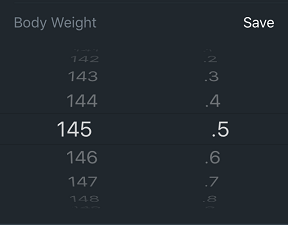 NOTE: If data sharing is enabled, your body weight will be saved in the health app and your weight will be synced to the other apps.
7.5 Running/Cycling Preferences (MotiFIT Run / Ride Only)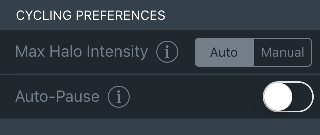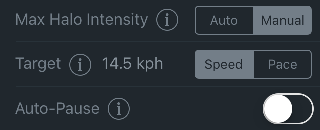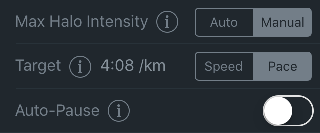 The maximum intensity of the running / cycling halo can be automatically calculated form your current pace / speed or it can be set manually.  When set to manual, you can choose to set your target to your pace or speed.  To set your target, tap on the speed / pace metric, scroll vertically to adjust the value and then tap "SAVE".
The halo will peak at 150% of the value specified.  For example, 8.0 -> 12.0 peak.
When "AUTO-PAUSE" is enabled, MotiFIT will stop tracking your workout when it detects that you are no longer in movement.  This prevents inactive readings from being saved with the rest of your workout stats.
7.6 Voice Feedback
When you are in a workout, MotiFIT's voice feedback can notify you of many metrics.  It can also let you know when your heart rate changes from one zone's threshold to another.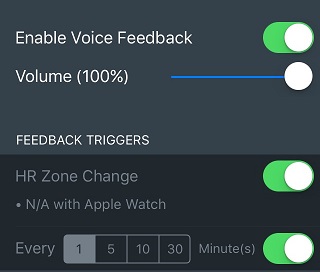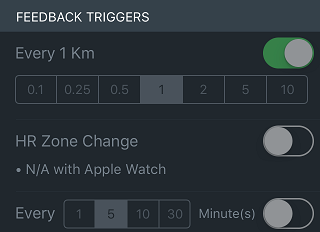 You can enable and disable voice feedback form this screen or you can also mute and unmute while you are in a workout. 
NOTE: Voice feedback is not currently available when tracking a workout on Apple Watch.
You can set the time intervals for which you would like MotiFIT to notify you of your metrics.  You can also set distance intervals in the MotiFIT Ride and MotiFIT Run apps.  If you want to be alerted when you change heart rate zones, you can enable it under feedback triggers.
NOTE: Voice feedback must be enabled to go through its setup.  If it is disabled, you cannot be able to enable any of the feedback features.
7.6.1 Spoken Metrics
The app can inform you on numerous metrics while you work out.  You'll be updated on these for the respective time interval that you have chosen in alert times.  Choose the metric that you prefer to be alerted on by enabling and disabling the different options.
For MotiFIT, you can choose between calories, duration, heart rate, heart rate (Avg), heart rate (Max) and heart rate zone.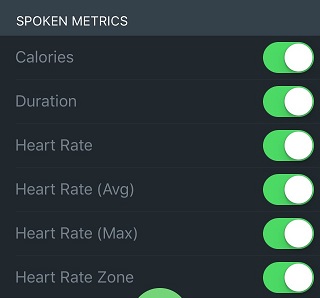 For MotiFIT Run and Ride, you can choose between calories, distance, duration, elevation, elevation (Gain), elevation (loss), heart rate, heart rate (Avg), heart rate (Max), heart rate zone, pace, pace (Avg), pace (Best), speed, speed (Avg) and speed (Max)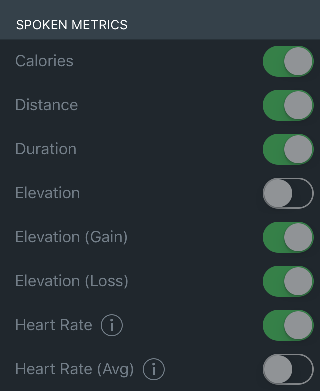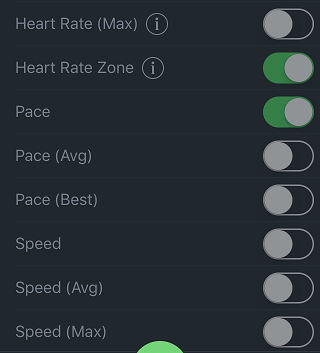 7.7 App Settings

Automatically lock the Start/Pause/Stop buttons during an active workout to avoid accidentally stopping an active workout.

Allow the device's screen to automatically "LOCK / TURN OFF" during an active workout.  Having this setting enabled will economize battery power but you will have to unlock the screen during your workout if you want to see the heart rate halo.  If the setting is disabled, the heart rate halo is visible throughout the workout.

The MotiFIT graph bars are indicators of the highest heart rate zone reached during your workout.  They break down the workout in smaller time intervals.  By default, the width of the bars is set at 30 seconds.  You can change it to your preferred setting by taping on the "+" and "–"symbols.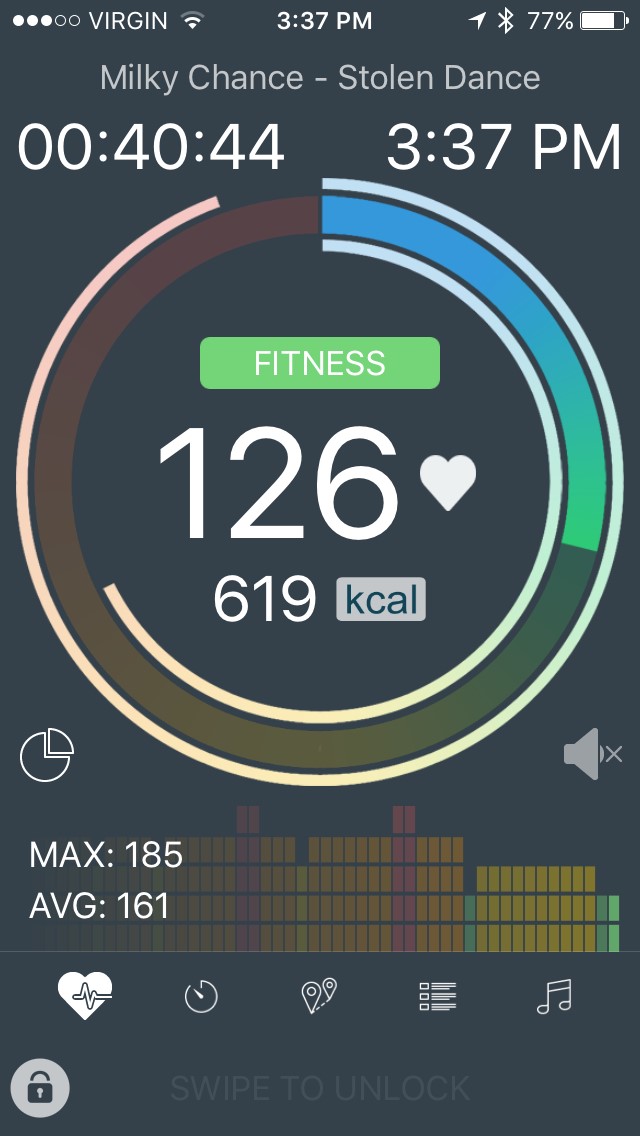 The bars are shown at the bottom of the heart rate halo when you are in a workout.  The colour of the bar represents the highest heart rate zone you have reached.

You can control the amount of filtering applied to the data before being displayed on the charts.  This filter helps smooth out sensor noise but affects the precision of the graph.  If filtering is too high, the max heart rate (MHR) in the graph will be lower than the MHR shown in the workout metrics.

You can control the amount of correction applied to the calories burned formula.  By default, the app uses 100% of the calories.  If you think that the kcal readings are too high, you can lower the correction by tapping on the "–" symbol.
Example: 100 kcal (from formula) x 90% (correction) =90 kcal