Where does the dashboard information come from?
The new FITIV dashboard displays more of the metrics that you want to track including sleep, calories consumed, and resting heart rate. This data is read by FITIV from Apple Health, which allows it to display the data you track in other third-party apps.
To get your data displayed in the FITIV dashboard ensure that your other third-party apps are writing data to Apple Health. Most third-party calorie counting and sleep tracking apps (i.e. LoseIt, MyFitnessPal, AutoSleep) can be set up to sync data to Apple Health, and once that data is populated into Apple Health it can be read and displayed by FITIV Pulse.
Link MyFitnessPal to Apple Health
How do I get cumulative data for the week/month/year?
The menu displayed at the top of the Dashboard view gives you the option to toggle between DAILY, WEEKLY, MONTHLY or YEARLY breakdowns for your workout time and calories burned. Please note that your WORKOUT TIME information is derived from your FITIV workout history, and will only count workouts appearing in the FITIV workout list.
Your CALORIES BURNED information is stored within Apple Health, so enable APPLE HEALTH AND ACTIVITY SHARING in the MORE section of the FITIV Pulse iPhone app is required for accurate cumulative calorie data.
Can I customize the dashboard view?
The metrics displayed on the FITIV dashboard can be customized according to your preferences. Metrics that you choose not to track can be hidden, and additional metrics tracked in Apple Health can be displayed. To customize the FITIV dashboard click the CUSTOMIZE button at the bottom of the dashboard screen to open a menu of displayed and available metrics.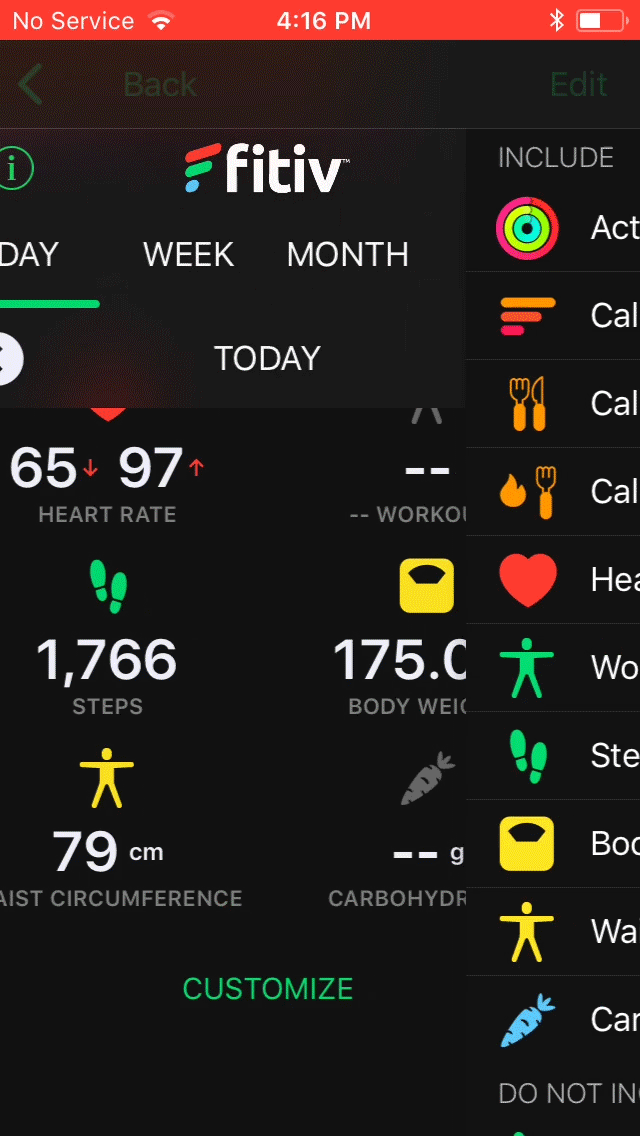 To edit the order of metrics displayed, or to add or remove a metric from the list, click the EDIT button on the upper right-hand corner. Once you have made the changes click SAVE to save your changes.
What if my calories aren't matching in different places on the dashboard?
If you are seeing values for daily calorie burn lower than the active calories displayed by the five-zone heart rate chart for the day, or if the calories otherwise don't match, this can be fixed by changing the PRIORITIES for DATA SOURCES in APPLE HEALTH.
Open the HEALTH app on the iPhone and click ACTIVITY>ACTIVE ENERGY>EDIT and rearrange the DATA SOURCES to ensure that FITIV PULSE is at the top of the list.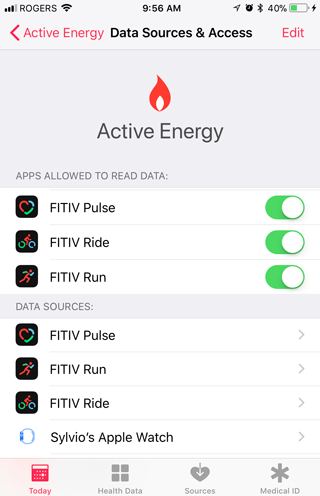 Why aren't my metrics showing up on the dashboard on iPad?
Because the iPad does not support Apple Health FITIV is unable to display dashboard metrics on the iPad version of the FITIV app. Specific workout information, however, can be synced between devices logged in with the same FITIV account details so specific workouts will show up in the WORKOUTS section of the fitiv app for review and analysis on iPad.