FITIV Pulse includes a customizable health and fitness dashboard that allows you to review your data and your progress over time. FITIV Pulse can display anything you track in Apple Health as well as your FITIV Pulse workout information.
Day View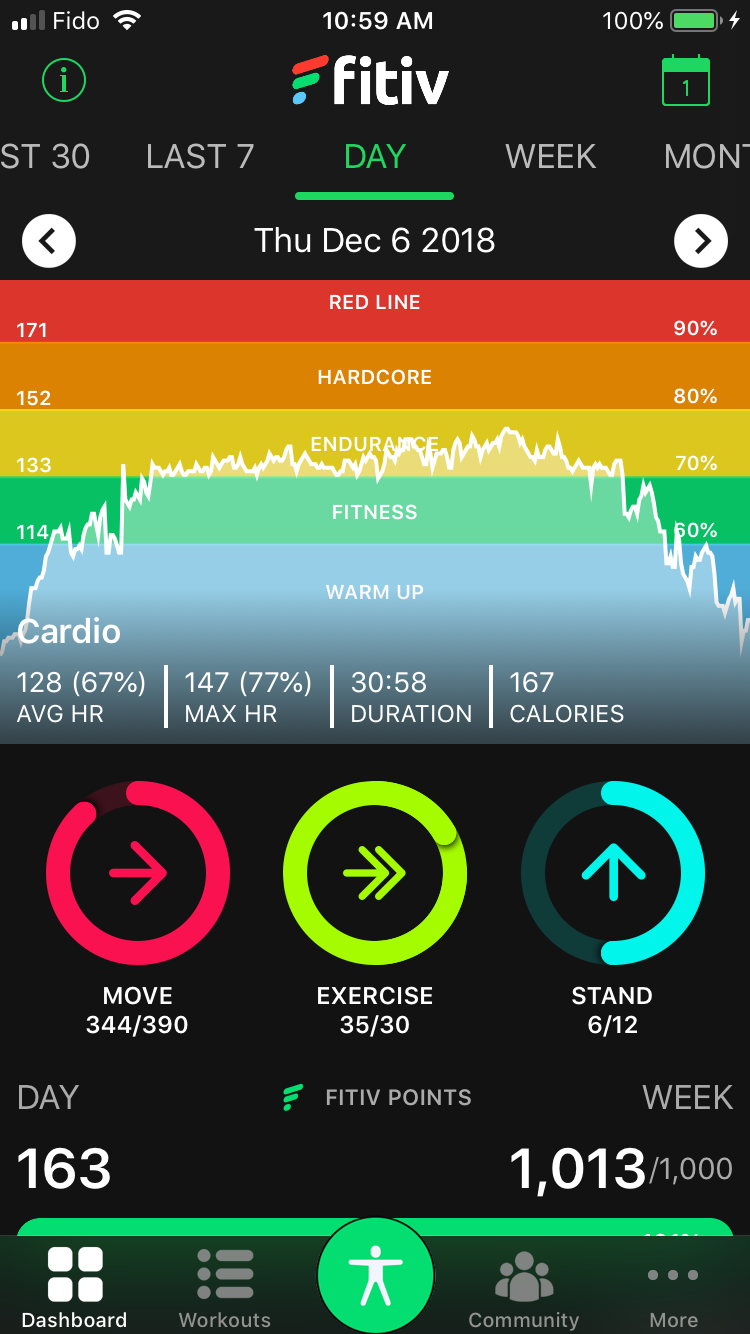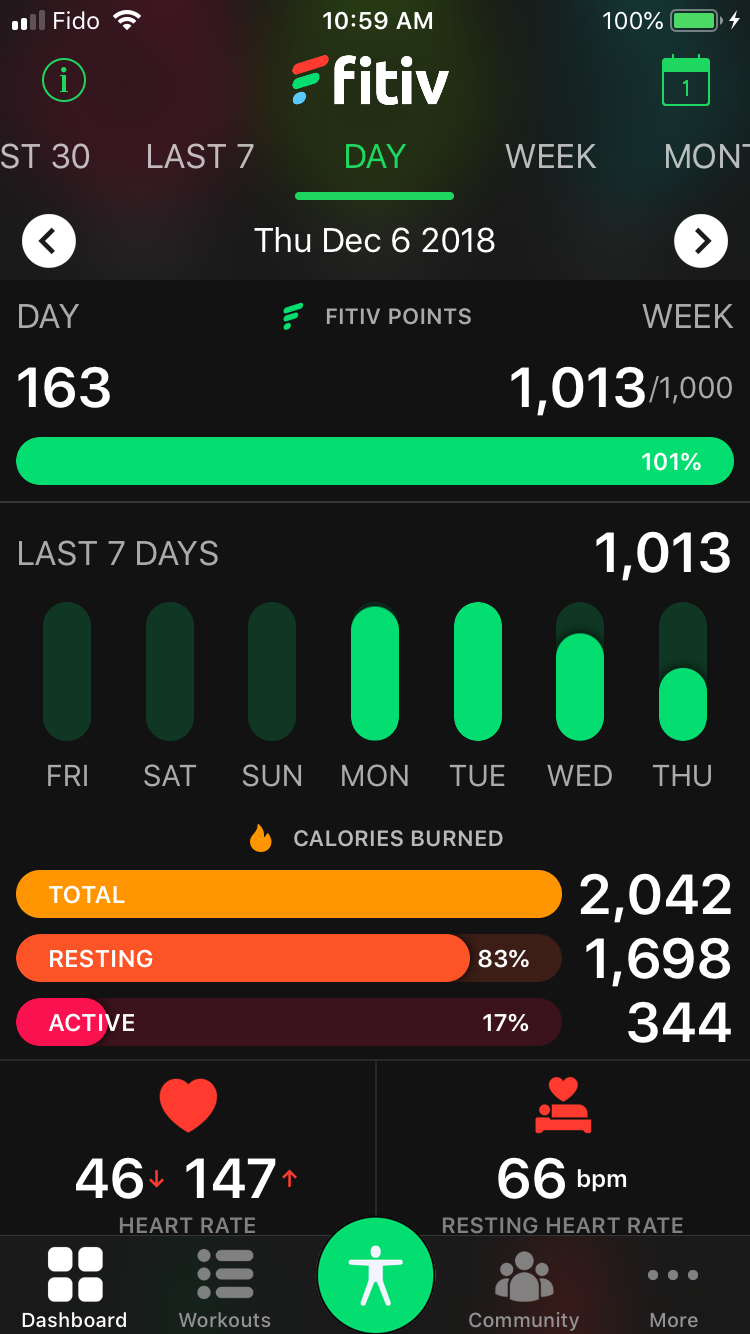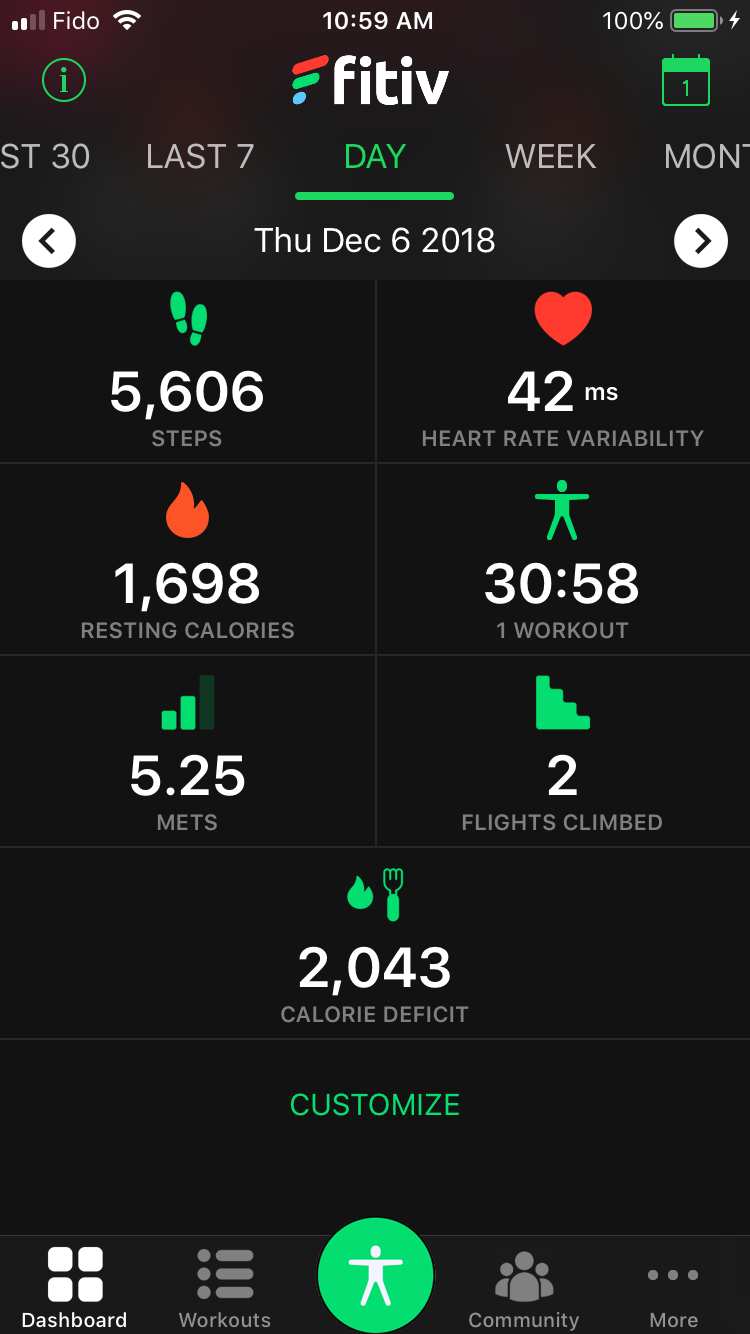 The Dashboard will, by default, show you a daily overview of your health and fitness. If you have done a workout it will show your workout graph, but if not you will only see your chosen Dashboard metrics.
Use the arrows at the top of the view to navigate to different daily views to see your metrics for other days.
Weekly, Monthly, Yearly or Custom Timeframes
You can select to show all of the data in your Dashboard over different time frames to see cumulative data. The toolbar at the top of the dashboard has various selectable options for time frames to view your workout and health data.
There are 6 pre-selected date ranges available on the toolbar to display your data in week, month, and year increments as well as increments of the last 7, 30 and 365 days. Select one of these options from the toolbar to see your cumulative data fro this range, or tap an individual metric within these ranges to see your data graphed over time.
Customization
The metrics displayed on the Dashboard are fully customizable. While by default the metrics displayed include the Apple Activity rings and various metrics from Apple Health including steps and bodyweight, all of these metrics can be hidden and different metrics can be added.
To customize your Dashboard you simply need to tap CUSTOMIZE to bring you to the menu of available options. Tapping EDIT will allow you to remove metrics, add metrics, or rearrange the way that your dashboard is organized to place the metrics you track at the top.
Details
When you tap on a metric on the Dashboard you will be brought to a detail view for further analysis of that metric. Simply track the metric to see that metric graphed to display changes over time.
You can also display the graphed metric for different timelines. Use the bar at the top of the dashboard to toggle between different views including the last 7, 30, or 365 days, the current week, month or year, or a custom timeframe of your choice.
Apple Health
Information for the Dashboard is primarily sourced from Apple Health. When you track your metrics in any apps that write data to Apple Health you can display and track those metrics on the FITIV Pulse dashboard.
In order to display your Apple Health data the app needs permission to read these metrics from the Health app. To enable your permissions open the HEALTH app on your iPhone and tap SOURCES>FITIV PULSE and ensure that everything is enabled in the display. All read and write permissions are required in order to ensure that your metrics are recorded and displayed properly.