FITIV Pulse includes a STATS section which gives you custom insights into your health and fitness progress. FITIV Pulse can display anything you track in Apple Health as well as your FITIV Pulse workout information.
Insights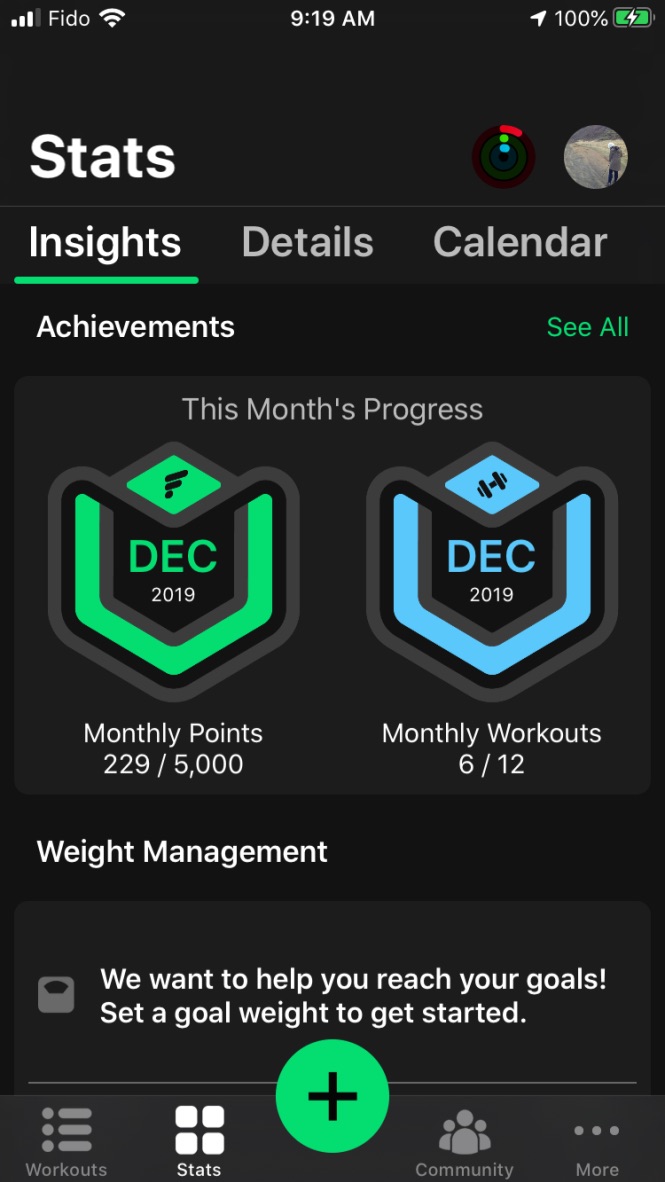 FITIV Insights are designed to interpret your health and fitness data and give you more information about how you're doing on your health and fitness journey.
The FITIV Insights start off with your monthly progress toward FITIV achievements. Earn 5,000 FITIV points and do 12 workouts in the calendar month in order to earn your monthly FITIV badges.
Weight Management
The Weight Management FITIV Insight is designed to help you achieve your weight loss or gain goals. By recording your workouts over time as well as regular weight tracking FITIV can predict your weight change and give you advice on how to better reach your goals. Input your goal weight and track as usual to learn more about achieving your goals.
Activity
Your FITIV Activity Insight is designed to let you know if you're meeting your daily and weekly minimum activity goals. Using an Apple Watch? The Activity Insight breaks down your daily and weekly Activity Ring goals.
Using a Bluetooth heart rate monitor? See your workout time, active Calories, and steps for the day and for the week. Meet your minimum daily exercise requirements to stay healthy and fit.
FITIV Points
Your FITIV Points Insight shows you if you're on track to reaching your weekly FITIV Points goals. FITIV Points are designed to help you reach your minimum guidelines, as well as giving you a way to measure the performance of two different athletes without having to look at something as inaccurate as calories. To learn more about FITIV Points click here.
Details
You can select to show all of the data in your Details over different time frames to see cumulative data. The toolbar at the top of the dashboard has various selectable options for time frames to view your workout and health data.
There are 6 pre-selected date ranges available on the toolbar to display your data in week, month, and year increments. Select one of these options from the toolbar to see your cumulative data fro this range, or tap an individual metric within these ranges to see your data graphed over time.
Customization
The metrics displayed on the Details view are fully customizable. While by default the metrics displayed include the Apple Activity rings and various metrics from Apple Health including steps and bodyweight, all of these metrics can be hidden and different metrics can be added.
To customize your Details you simply need to tap CUSTOMIZE to bring you to the menu of available options. Tapping EDIT will allow you to remove metrics, add metrics, or rearrange the way that your dashboard is organized to place the metrics you track at the top.
Further Details
When you tap on a metric on the Dashboard you will be brought to a detail view for further analysis of that metric. Simply track the metric to see that metric graphed to display changes over time.
You can also display the graphed metric for different timelines. Use the bar at the top of the dashboard to toggle between different views including the last 7, 30, or 365 days, the current week, month or year, or a custom timeframe of your choice.
Apple Health
Information for the Dashboard is primarily sourced from Apple Health. When you track your metrics in any apps that write data to Apple Health you can display and track those metrics on the FITIV Pulse dashboard.
In order to display your Apple Health data the app needs permission to read these metrics from the Health app. To enable your permissions open the HEALTH app on your iPhone and tap SOURCES>FITIV PULSE and ensure that everything is enabled in the display. All read and write permissions are required in order to ensure that your metrics are recorded and displayed properly.
Calendar
The third tab in the STATS section is the Workout Calendar. The workout calendar is the best way to get a top-level overview of your monthly workouts.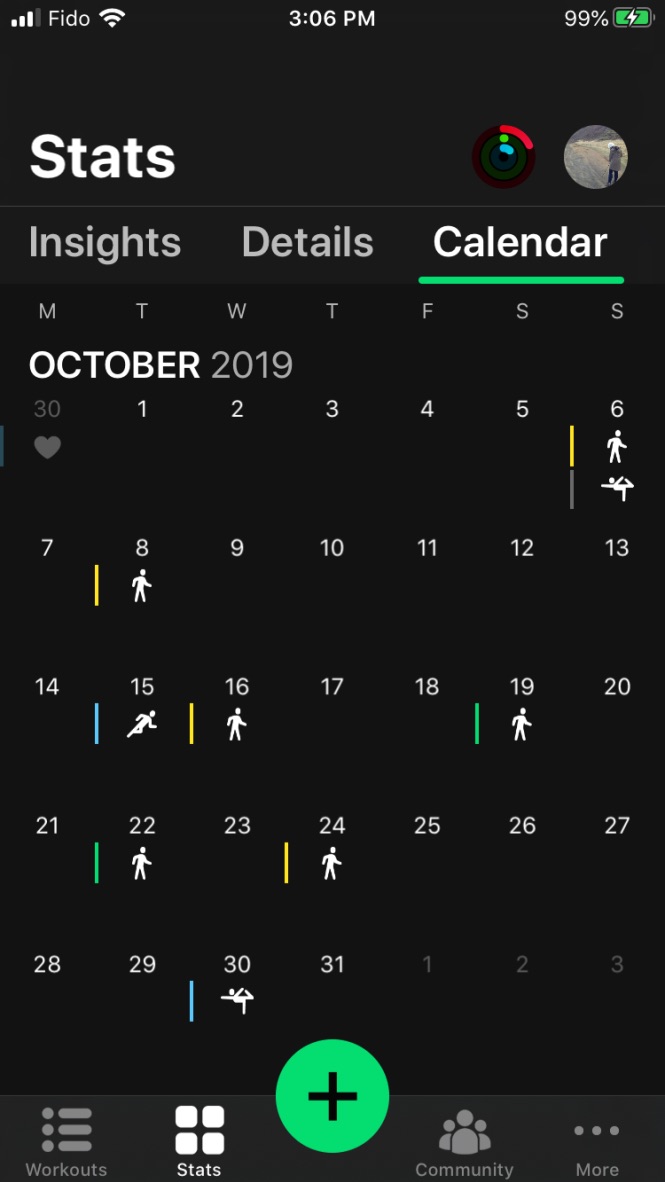 The icon associated with the workouts show the types of workouts performed on that day. The coloured line at the side indicates the highest heart rate zone achieved during that activity. If you tap on one of the cells in the workout Calendar you will be brought to the workout associated with that day.