Apple Watch users have a variety of extra ways to keep an eye on their fitness levels. One great way to keep your fitness data at our fingertips and to let you access the app at the tap of any screen is to use one of FITIV's customizable Apple Watch complications.
How to add Apple Watch Complications:
1. Tap and hold the Apple Watch screen on the Watch Face whose Complications you would like to customize
2. Tap the CUSTOMIZE button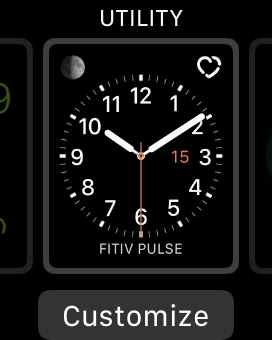 4. Swipe RIGHT across different customization option until the Complications you would like to edit are circled and selectable
5. Tap the Complication you would like to edit
6. Use the Digital Crown of the Apple Watch to scroll through available Complication types
7. Once you have reached your desired Complication either tap another Complication you would like to edit or tap the Digital Crown to return to your Apple Watch face
NOTE: Different Watch faces have different Customization options, try different Apple Watch faces to find the Complication setup that works best for you.
What Complications are available:
Apple Watch Series 4: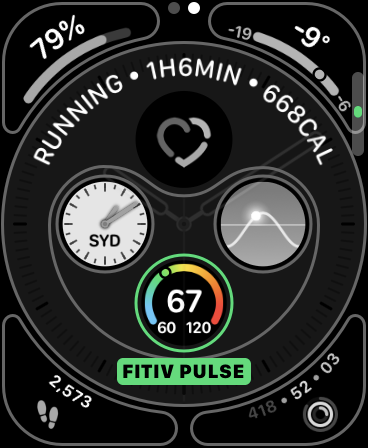 Bottom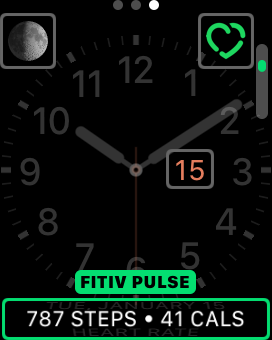 The BOTTOM Complication on Apple Watch faces like the UTILITY face will display your steps taken for the day as well as your ACTIVE CALORIES BURNED.
Middle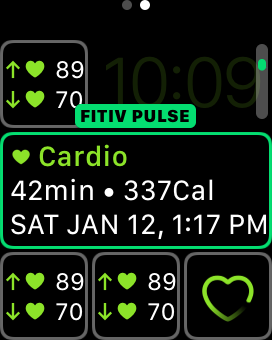 The MIDDLE Complication available on the MODULAR Watch face provides the most detailed analysis of any Complications. This Complication shows your last workout recorded with FITIV and the following details:
- Workout Type
- Workout Duration
- Calories Burned*
- Workout Start Time
- Workout Date
*You can toggle between the display of ACTIVE or TOTAL calories in the iPhone app under MORE>APPLE WATCH>COMPLICATIONS>CALORIES TYPE